Luxury living on Saadiyat Island
Jazeera Saadiyat, which is Arabic for "Island of Happiness", commonly known as Saadiyat Island is currently one of Abu Dhabi's key urban development projects, situated 500 meters north east of Abu Dhabi and covering an area of 27sq km.
Saadiyat Island feels a world away from the city, but thanks to the Sheikh Khalifa Highway is only 10 minutes from Downtown Abu Dhabi and 15-20min to Yas Island which is another reason for  residents to live in the island because they can have easy and fast access to the amenities in Yas Island like ( Yaswater World, Ferrai World, Yas Marina, Yas links and much more) Saadiyat is Popular with both expats and locals and noted as a premium multi-cultural community embrace a range of luxury accommodation and amenities, to choose from, including apartments, townhouses and luxury villas. The communities include ( Saadiyat Beach Villas, Saadiyat Beach Residences, Saadiyat Marina, Saadiyat Lagoons, Hidd Al Saadiyat,  Jawaher and the Residences at St Regis ).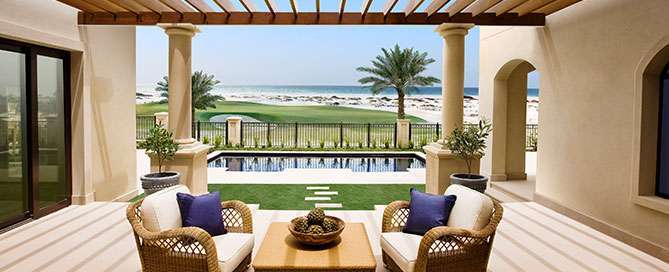 Saadiyat represent all-around destination with unlimited attractions for end user or investors, locals & expats more than any community in Abu Dhabi because Saadiyat Island have it all when it comes to culture, entertainment,  leisure, your dream home and others. As in Culture wise saadiyat island is considered as cultural capital of the Middle East , with the world-famous Louvre ( will feature works of historical, culture from anicet times to the contemporary era ), Zayed National Museum ( UAE's first national Museum featuring the life and achievement of the president of the nation, Sheikh zayed bin Sultan Al Nahyan ), Guggenheim Abu Dhabi ( will celebrate the finest examples of global art from the 1960s to the present day ), Manarat Al Saadiyat ( art and culture center with multiply gallery spaces )
Saadiyat Island Neighborhood
Saadiyat Island is one of the most vibrant communities in Abu Dhabi thanks to its impressive and multiple activities available for everyone ( Families, Kids, woman & men ). Among these activities families & young couples have a lot of great choices in the island to enjoy with. For example some people would like to have a calm getaway weekend and to be far away from the noise & traffic of the city, so as a start of their escape they can go for instance to the Beach House and indulge themselves with great breakfast, lunch or dinner,  Another way of amusement & pleasure activities that all kind of ages can get benefits of, is to have fun in one of the most famous beach club in the island  " Monte-Carlo Beach Club " and have some entertainment water sports like ( Parasailing, fly fish, tubing, boating, fly boarding ). Along with Monti Carlo Beach, Saadiyat is famous of her five stars hotels and one of the famous hotels there is "St. Regis Hotel" because of the mixture collection of amenities starting with swimming pools ranging an outdoor adult's pool to a family pool to both indoor & outdoor lap pools and children's pool which allow guests to have a pleasant experience and it goes also to the most challenging and rewarding golf courses in the world starting at 5,290 yards for beginners  and expanding to 7,806 for leading players.
Saadiyat Island Nearby
Another option is created to attract the young adults, families with children is " Sandcastle Club" a complimentary in-house guest with indoor play area, which includes mats, blocks, puzzle, toys for all ages and much more.
Other reasons why Saadiyat Island is attractive destination and the first choice for families or investors when they buy a property is because of the well-known schools, nurseries and not to forget New York University which offers a big range of educational facilities for all age groups. Saadiyat Island is dedicated to ensure that each resident, guest that enter the island is to be able to unlock the very best of Abu Dhabi, that's why Saadiyat Island created sensational gateway called " Nurai Island Resort " 12 minutes from Saadiyat, that allows  families, newly married coupled to enjoy their weekend escape in a very private modern way  from calm beaches, sun-toasted sands and top-end food and amenities.
Saadiyat Island standout because it gives dream home to families and a property for an investor whether they are preferring apartments, villas, townhouses in affordable price and flexible payment plan.
Saadiyat Island Designed to give everyone their own special, unique experience… Saadiyat Island has it all.
List Your Property