Everything You Need to Know About Renting in Abu Dhabi
State employees must live in Abu Dhabi
In September 2013 new laws meant that people who are employed by the state to work in Abu Dhabi are only eligible for housing allowance – which makes up about a third of their salary – if they live in Abu Dhabi. This means you have the option of living in Dubai and commuting to Abu Dhabi every day, but economically this wouldn)t make sense.
Rent is paid annually
It comes as a shock to many an expat when they arrive in the city only to discover they have to fork out a year)s rent upfront in the form of a single cheque. If you)re lucky, your landlord or agent may accept two cheques – one for your first six months, one to be cashed six months) down the line. Agreeing to move in quickly and not haggling over the price will encourage them to do this. If you don)t have savings, ask your company for an advance which you can pay back in monthly instalments; if they refuse, you can organize a loan from the bank. First you need your Emirates ID card.
It's a landlord's market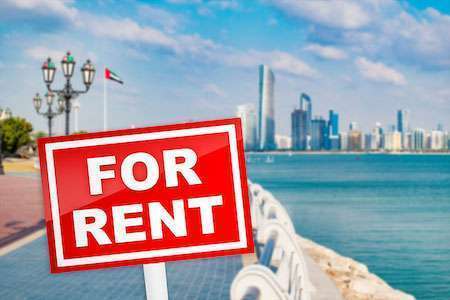 Landlords hold all the cards when it comes to renting. If you)ve paid a year upfront and signed a contract, Article 21 of the Tenancy Law states you must fulfil your obligation – even if you)re not granted a visa or you lose your job. If this happens, talk to your landlord and try to come to an agreement, such as finding a replacement tenant.
White goods are included
When you move in to a rented villa or apartment, expect nothing. It)s most likely your new home will not include carpets, curtain rails, a fridge, freezer, washing machine, dryer or cooker. Consider yourself lucky if it comes with a front door.
Unmarried couples cannot live together
Sharia Law does not allow unmarried and unrelated members of the opposite sex to live together. Under Article 356 of the UAE Penal Code, living with a person of the opposite sex could result in a minimum of a year in jail. Only one adult is allowed in one bedroom, and a maximum of six people are allowed in each villa to avoid overcrowding.
Landlords can increase the rent to whatever they like
Prior to November 9 2013, the Tenancy Law meant landlords were not allowed to increase rent by more than five per cent each year. The Executive Committee – the body that removed this cap – advise landlords to charge market rate, but do not specify what this is. The reality is that since the rental cap was abolished, rent has increased by approximately 16 per cent.
I need to give my landlord a month's notice before moving out
Article 20(3) of the Tenancy Law says you must give your landlord two months) notice, in writing, before your lease expires. Ben says this is best done by email – request the delivery receipt option – or by recorded delivery, so you can prove they have received the notice. Your landlord is required to do the same. If you reach the end of your tenancy and neither party has altered the terms of the tenancy agreement, then it will automatically renew on the same terms.
Landlords can throw you out for no reason
True. As long as you)re given proper notice, your landlord is not required to give you a reason for asking you to leave, according to Article 24 of the Tenancy Law.
Subletting is illegal
Unless the landlord authorizes it in writing, subletting, where you rent from another renter, is not permitted. The penalty is eviction. Ben says The law doesn't state a time frame so bailiffs or your landlord may just turn up at your door, but realistically they will give you one or two months' notice.