Reasons to Invest in Abu Dhabi Real Estate
Choosing to buy a property can be a difficult decision, we analyse the top ten reasons to purchase a property in Abu Dhabi to make that decision easier for you.
1. The Market
Freehold properties are available for sale in Abu Dhabi to expats and locals. There are a few restrictions on areas expats can buy but the best investment areas are all available to expats: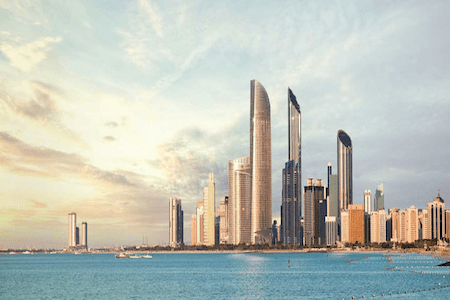 2. Freehold Properties
Up until 2019, Abu Dhabi expat residents were unable to own a home outright. Thanks to positive changes to real-estate laws, non-UAE residents and non-Emiratis can purchase a freehold property in the above-mentioned zones. This allows expats to purchase a freehold property or land plot, that can be kept and passed on generation to generation, encouraging foreign residents to stay for longer.
3. Return on Investment
Return on investment (ROI) with Abu Dhabi properties sits at around 7% depending on the area you choose to purchase a property. We recommend investing in an area that is established and/or up and coming to fortify this ROI. Your dedicated account manager can advise you on the best investment areas that suit your budget and requirements.
4. Stability
If you are concerned about the market being unstable due to the COVID-19 pandemic, then you should not be. If you are looking to purchase a home and have the means to support a mortgage. Now is a great time to buy as the cost of real-estate is down and you are likely to get a great deal on your mortgage in terms of low interest rates, high loan to value, reduced service charge, and attractive valuations.
5. Prospects
With Abu Dhabi focusing on infrastructure development as part of the 2030 plan, the addition of new residential communities is set to have a positive impact on the economy. With leisure and cultural destinations nearing completion such as: Al Hudayriat Island, Sheikh Zayed National Museum, Guggenheim Abu Dhabi, Yas Bay and Al Qana, Abu Dhabi aims to entice people to the UAE by creating more jobs, increasing population year on year
6. Rental Payments
The norm for renting a property in Abu Dhabi is to pay your yearly rent in one or two cheques. However, due to the decreased demand and average price of renting in the capital, landlords are beginning to offer tenants the opportunity to pay in monthly instalments along with generous discounts and added extras. With an increased cost between 2-5% charged for these flexible payments, this method of payment is unusual due to the financial risk it poses for landlords
7. Legal Protection
Should a landlord wish to evict their tenants for any reason, they must give the 60 days' notice before the tenancy contract expires. Landlords can refuse the renewal of any tenancy contract if they follow this legislation of Abu Dhabi rental law.
8. Current Landlords
By having a good understanding of the market and what tenants are looking for, landlords can gain higher than average rents. As a landlord there are a variety of ways you can incentivise your tenants to pay higher rental prices. Your dedicated account manager can advise you on ways to achieve higher rental yields while also attracting more tenants.
9. Visas
With the introduction of remote work, five-year and retirement visas, the UAE has given expats another incentive to invest in the property market. With many expats hesitant to invest in property due to short-term company visas of only two years, these three new visa types give expats added security.
10. Attractive Prices
Affordability in the UAE compared to similar global cities is valued by multiple experts as 'excellent' has been marked the UAE as 'fair valued' compared to cities like New York, London and Paris.