Mamsha AlSaadiyat – RESALE
One of Aldar Properties most magnificent beachfront residences is Mamsha AlSaadiyat; offering 9 buildings with 461 freehold residential units, each with seamless architecture and an opulent seaside lifestyle. Mamsha AlSaadiyat, a variety of apartments, penthouses and townhouses situated in the AlSaadiyat cultural district. Its most notable feature is the private, gleaming Soul beach club, has a 1.4-kilometer stretch of white sand beach. Provides a 400-meter swimming area, and 400 sun loungers placed along the shore. People from the Mamsha community may always enjoy nice summer fun and warm nights by the sea at Soul Beach.  Most importantly, it is becoming home to a range of retail and F&B businesses in addition to allowing visitors from outside the community to explore one of Abu Dhabi's top beaches.
Mamsha property types and sizes:
A choice of magnificent apartments and townhouses with one to four bedrooms. Presented in luxurious finishes of modern glass, timber, and metals that are intended to emanate peace and sophistication. Mamsha also stands out with its 5 bedroom penthouses, with a size of
16,344.44 sq.ft, 7 baths and 2 parking spots. These penthouses additionally feature a balcony with sea views, a walk-in closet, a laundry room, built-in wardrobes, a maids' room, and a closed kitchen.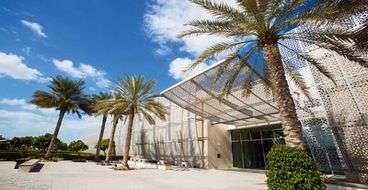 1 BR apartment 1,421-1,636 sqft area range.
2 BR townhouse 1,711-3,982 sqft area range.
3 BR townhouse 3,089-4,714 sqft area range.
4 BR townhouse 5,306-5,791 sqft area range.
5 BR penthouse 17,653 Sqft area range.
Get to know Mamsha Beachfront Community
Mamsha features a variety of services to accommodate families and businesspeople with different lifestyles. Provides the best amenities for its residents while boasting breathtaking sights, white sand beaches, natural richness and natural ecosystems. Mamsha is a display of how people can have it all in Abu Dhabi.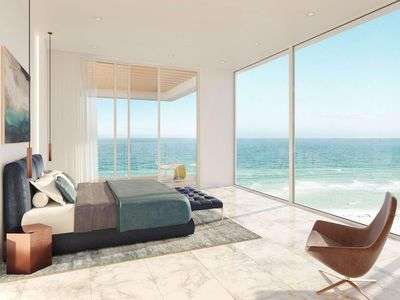 MALLS:

Abu Dhabi Mall (10 Minutes).
Galleria Mall (16 minutes).

BEACHES:

Soul beach (5 minutes).
Saadiyat Public Beach (9 minutes).

SCHOOLS & UNIVERSITIES:

Cranleigh Abu Dhabi(4 minutes).
INSEAD Middle East Campus(10 minutes).
New York University Abu Dhabi(10 minutes).
Repton School Abu Dhabi(18 minutes).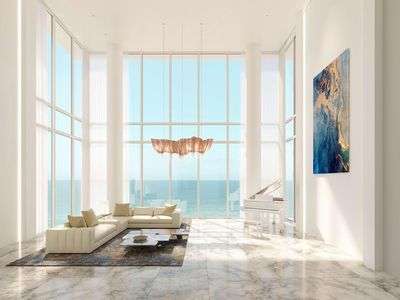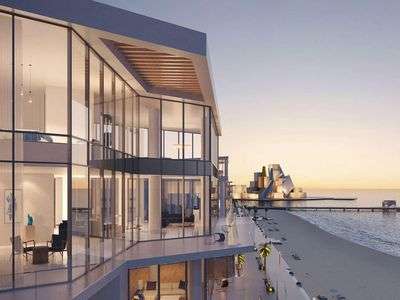 HOSPITALS & NURSERIES:

Burjeel Day Surgery Center (17 minutes).
Cleveland Clinic (11 minutes).
Mosaic Nursery (17 minutes).
Redwood Montessori Nursery (22 minutes).

HOTELS, RESTAURANTS & CAFES:

Saadiyat Rotana Resort & Villas (6 minutes).
Hotel Rixos Saadiyat Island (6 minutes).
The St. Regis Saadiyat Island Resort (7 minutes).
Park Hyatt Abu Dhabi Hotel & Villas (8 minutes).
Four Seasons Hotel Abu Dhabi (9 minutes).
Museum Café (5 minutes).
The Library Café (8 minutes).
Circle Café (10 minutes).
Shakespeare and Co. (6 minutes).
Majlis Saadiyat Café (12 minutes).
Saadiyat cultural district
For families and investors, the cultural district on Saadiyat Island and exactly where Mamsha AlSaadiyat is located is a top draw. This area is described as a haven of luxury, including lavish homes, business and retail establishments, educational facilities, hotels, first-class shopping, dining and entertainment venues and landmarks. This center of art, which is rapidly becoming a well-liked tourist destination and is admired for its distinctive perspective on heritage and culture, encourages the greatest creative minds to collaborate and create the most distinctive architectural forms in the history of the globe.
Parks.
Beaches.
Retail shops.
5-star Resorts and restaurants.
Manarat Al Saadiyat.
Saadiyat Public Beach.
New York Abu Dhabi University
Saadiyat Beach Golf Club.
3 Internationally renowned museums.

1. Louvre Museum.

2. Zayed National Museum.

3. Guggenheim Museum.
Why is investing in Saadiyat Island a golden opportunity?
There is a wide range of real estate available for purchase on Saadiyat Island, including apartments, penthouses, duplexes, townhouses, villas, and land plots. As Saadiyat Island develops into Abu Dhabi's future cultural hub, purchasing real estate there is a wise investment that will yield a high return on investment (ROI) every year that only goes greater. The island's infrastructure is well-established, providing a golf course along the coast, upscale hotels, white sand beaches, and leading educational facilities. Lastly, the fact that Saadiyat Island is a freehold area means that foreign investors can purchase any property on the island, including apartments, villas, and land plots, with 100% ownership.
PSI is ready to provide you with further information about any resale project,
Call us on: 600 548 200 or visit our website: https://propertyshopinvestment.com/