Exploring the Latest Trends in the Abu Dhabi Real Estate Market
From emerging neighborhoods brimming with potential to sustainable developments that harmonize with nature, we shall uncover the key forces propelling the growth of Abu Dhabi's real estate market and the exhilarating prospects it presents.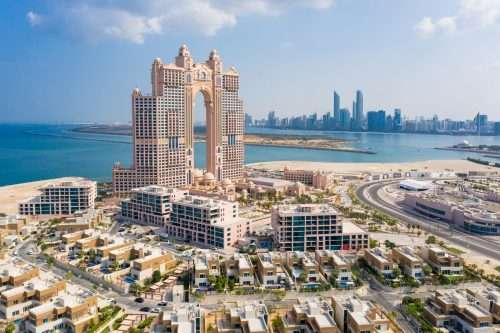 A Close Examination of the Latest Trends in the Abu Dhabi Real Estate Market:
From sustainable developments to technological advancements, we delve into the transformative forces that are shaping the future of Abu Dhabi's real estate market. Get ready to uncover the shifting paradigm and gain a deeper understanding of the latest trends in the Abu Dhabi real estate market.
A Symphony of Sustainability:
Abu Dhabi has forged an unwavering commitment to forge a sustainable future, and this dedication reverberates through its real estate projects.
Visionary developers embrace eco-conscious principles, adorning their creations with energy-efficient designs, water-conservation marvels, and renewable marvels.
Gleaming green building certifications to cutting-edge smart home technologies, sustainability transcends a mere fad, shaping the very essence of Abu Dhabi's real estate market.
These sustainable edifices bestow upon residents not only a harmonious coexistence with the environment but also enriched living experiences and long-term fiscal prudence.
The Ascendance of Vibrant Neighborhoods:
Abu Dhabi boasts a tapestry of neighborhoods, each weaving its distinctive charm and investment allure. As this market burgeons, numerous budding districts have seized attention for their promises of prosperity.
Saadiyat Island, with its imminent Guggenheim and Louvre museums, stands tall as a coveted address for connoisseurs of art and culture.
Reem Island beckons with its modern waterfront lifestyle, while Al Raha Beach entices seekers of opulence with its aura of exclusivity.
Venturing into these nascent domains may unveil hidden treasures for both enterprising investors and discerning homebuyers.
Technology's Trailblazing Footprint:
The Abu Dhabi real estate market fervently embraces technology and innovation to elevate the quintessential property buying and ownership experience.
Virtual property tours and online portals enthrall prospective buyers, while digital transactions and intelligent home systems streamline processes, endowing both purchasers and vendors with unparalleled convenience.
Embracing these groundbreaking advancements ensures investors and homeowners remain interconnected, enabling them to make enlightened decisions within an ever-expanding digital panorama.
A Realm of Opulence and Hospitality:
Abu Dhabi's eminence as a global tourism hub has engendered a flourishing tapestry of luxury and hospitality, offering an enticing tapestry of investment prospects.
The city's iconic landmarks, exemplified by the resplendent Sheikh Zayed Grand Mosque and the adrenaline-fueled extravaganza of Ferrari World Abu Dhabi, magnetically allure globetrotters from all corners of the globe.
Consequently, a palpable demand for upscale hotels, serviced apartments, and idyllic vacation abodes permeates the realm. Discerning investors keen on capitalizing on this tide can immerse themselves in the hospitality sector, wherein alluring rental yields and unwavering returns await.
The Emergence of Smart and Sustainable Infrastructure:
Abu Dhabi's unwavering commitment to smart city initiatives and sustainable infrastructure development has revolutionized its real estate market.
The seamless integration of smart grids, efficient transportation systems, and intelligent edifices augments the overall quality of life for residents, resonating with the symphony of modernity.
Ongoing infrastructure expansions, exemplified by the burgeoning metro system and burgeoning road networks, enhance connectivity and accessibility within the city's expanse, further amplifying the allure of real estate investments.
Discover More of Abu Dhabi Real Estate Properties