Mamsha Al Saadiyat Residences
Mamsha residency located at Al Saadiyat cultural district is another high-end finishing work by Aldar properties containing 9 buildings and 461 residential units. Mamsha is a ready project that offers a selection of apartments, penthouses and townhouses with an exclusive luxurious white sandy beachfront.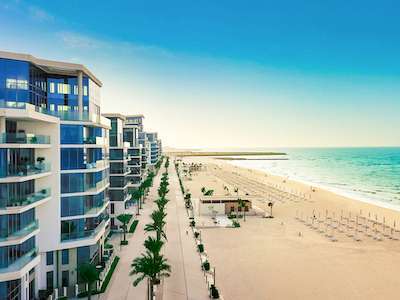 A selection between one-to-four-bedroom apartments and spacious penthouses. Which feature high-end finishing in contemporary glass, timber and metals designed to exude calm and modern sophistication.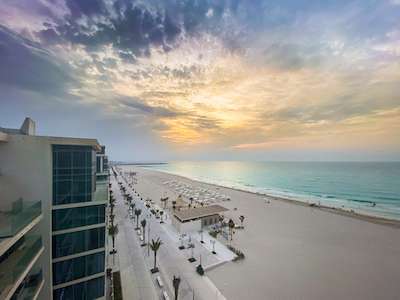 Mamsha Al Saadiyat is created for investors and end-users, in which payments are flexible with zero registration fees and the availability of ownership for all nationalities.
Price from (sale): AED 2,300,000.
Price max (sale): AED 25,000,000.
Price from (Rent): AED 140,000.
Price max (Rent): AED 400,000.
Mamsha is designed to fit different lifestyles accommodating families and professional business individuals; featuring diverse facilities and sustainable units.
Mamsha Facilities:
Mamsha proves that one can have it all; with stunning views, white sandy beaches, abundant wildlife and natural ecosystems; catering the best facilities for its people.
Infinity swimming pools.
Fully equipped Gymnasiums with a beachfront view.
Landscape gardens.
Walking and cycling paths.
Children's play area outside.
Mosque.
Sauna.
Soul Beach Club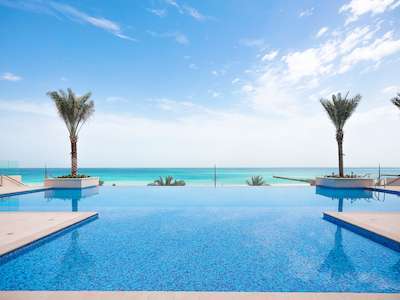 1.2km long of the beach is immaculately maintained and features a 400m swimming zone as well as 400 sunbeds set up along the sand. Soul beach is strategically located where people of Mamsha community can always have summer beach fun and beautiful chilly nights by the sea. In addition to allowing people outside the community to be able to visit one of the best beaches in Abu Dhabi.
Mamsha AlSaadiyat is located in a vibrant area becoming an exciting community amongst Abu Dhabi's social scene; marking The District Retail complex where first-class shopping, dining and entertainment venues are just around the corner. Featuring outstanding nearby amenities within this lively, beachfront community.
Nearby landmarks to Mamsha:
Mamsha Al Saadiyat is ideally positioned to become cosmopolitan, just steps away from three of the world's most famous museums.
Louvre Museum (4 minutes).
Zayed National Museum (4 minutes).
Guggenheim Museum (6 minutes).
1.2 km of pristine sand, this project promises to be a first-of-its-kind beachfront residential destination.
Soul beach (5 minutes).
Saadiyat Public Beach (9 minutes).
As Mamsha features The District's exciting retail complex, it also has easy access to known retail destinations.
Abu Dhabi Mall (10 Minutes).
Galleria Mall (16 minutes).
Mamsha is also known for its short distance from acclaimed academic establishments.
Cranleigh Abu Dhabi (4 minutes)
INSEAD Middle East Campus (10 minutes)
New York University Abu Dhabi (10 minutes)
Repton School Abu Dhabi (18 minutes)
Close destinations to important hospitals to Mamsha.
Burjeel Day Surgery Center (17 minutes).
Cleveland Clinic (11 minutes).
For a parents' comfort, the availability of nearby nurseries to Mamsha is a close destination.
Mosaic Nursery (17 minutes).
Redwood Montessori Nursery (22 minutes).
For the comfort and entertainment of visitors and tourists, Mamsha is a close destination of high-end leisure hotels and resorts.
Saadiyat Rotana Resort & Villas (6 minutes).
Hotel Rixos Saadiyat Island (6 minutes).
The St. Regis Saadiyat Island Resort (7 minutes).
Park Hyatt Abu Dhabi Hotel & Villas (8 minutes)
Four Seasons Hotel Abu Dhabi (9 minutes).
Mamsha is located in a strategic area where it is easy to reach delightful restaurants and cafes
Museum Café (5 minutes).
The Library Café (8 minutes).
Circle Café (10 minutes).
Shakespeare and Co. (6 minutes).
Majlis Saadiyat Café (12 minutes).
For furtherance, we have private real estate management advisors to help you make your choice. Our assistance can fit the time and day convenient for you, wheather you are a buyer, tenant or a landlord at Mamsha Al Saadiyat.