Hotspots for Real Estate Investment in Abu Dhabi
Abu Dhabi, the dazzling capital of the United Arab Emirates, is much more than a bustling metropolis and the center of political and industrial activities of the country. It is a city that perfectly blends the charms of the old with the comforts of the new, and this essence is perfectly captured in its real estate market. From luxury beachfront properties and sprawling desert compounds to modern high-rise apartments and villas, Abu Dhabi offers a real estate palate as diverse as the city itself.
Saadiyat Island is a prestigious destination that offers a mix of residential, commercial and cultural attractions. It is home to world-class museums like the Louvre Abu Dhabi and the upcoming Guggenheim Abu Dhabi. The island features high-end villas, apartments and beachfront properties that appeal to investors seeking exclusivity and luxury. With its serene environment and proximity to pristine beaches, Saadiyat Island is a prime hotspot for real estate investment.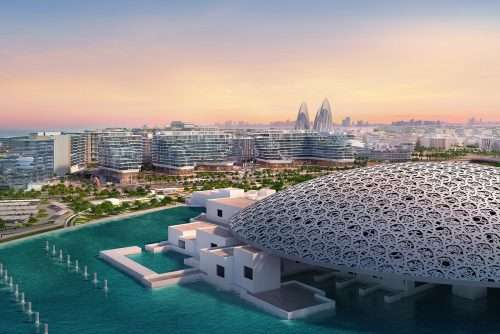 Al Reem Island
Al Reem Island is a rapidly developing area that offers a mix of residential, commercial and retail spaces. It is strategically located near Abu Dhabi's city center and offers stunning waterfront views. The island boasts a range of apartment complexes, townhouses and luxurious penthouses. With its modern infrastructure and proximity to major attractions, Al Reem Island is a hotspot for real estate investment.
Al Maryah Island
Al Maryah Island, also known as Abu Dhabi's Central Business District, is a bustling hub for commercial and luxury residential properties. It is home to Abu Dhabi Global Market (ADGM), the city's international financial center and world-class shopping destinations like The Galleria. Investors can find upscale apartments, serviced apartments and office spaces in this thriving district. Al Maryah Island offers excellent rental yields and long-term capital appreciation potential which making it an attractive investment hotspot.
Yas Island
Yas Island is a renowned leisure and entertainment destination in Abu Dhabi. It features iconic attractions like Ferrari World, Yas Waterworld, and Yas Marina Circuit which hosts the Formula 1 Abu Dhabi Grand Prix. The island offers a range of residential options, including waterfront villas and apartments. With its vibrant lifestyle offerings and proximity to Abu Dhabi International Airport, Yas Island presents a unique opportunity for real estate investors.
Al Raha Beach
Al Raha Beach is a waterfront community known for its luxurious beachfront villas, townhouses, and apartments. The development offers a mix of residential, commercial, and retail spaces, along with leisure amenities like marinas, private beaches and waterfront promenades. Al Raha Beach's prime location, upscale lifestyle and strong rental demand make it an attractive hotspot for real estate investment.