Freehold investments in Abu Dhabi
Islands, business hubs and Masdar City among those named investment zones by the Department of Urban Planning and Municipalities
Under Abu Dhabi's new freehold law, foreign investors can buy property for the first time in the emirate within designated investment zones, which include private resort Nurai Island, eco-friendly Masdar City and Al Maryah Island, the location of the capital's future start-up centre Hub71.
The full list of the designated zones from the Department of Urban Planning and Municipalities is released. Here is where non-GCC nationals can buy freehold property: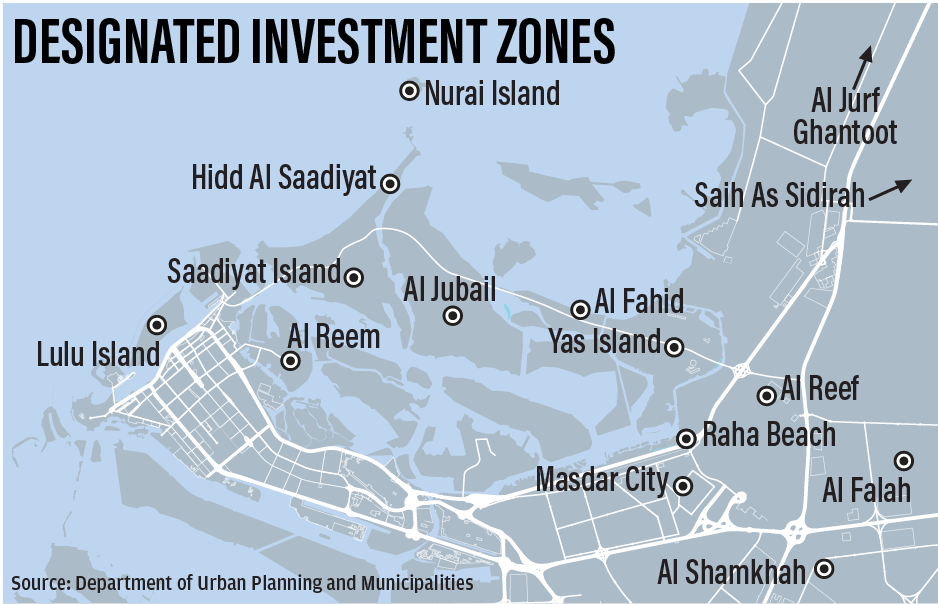 Foreign investors in Abu Dhabi's real estate market were previously granted leasehold arrangements with a maximum 99-year time period but, last week, the rule was amended through a royal decree, a move aimed at supporting the capital's property market, boosting foreign direct investment and strengthening its economy.
Until the changes, freehold ownership of property was only allowed for UAE and GCC nationals. Parcels of land and units within the designated investment zones will now be registered under Abu Dhabi's freehold law, with property ownership deeds issued to buyers of real estate in the emirate.
According to property experts, the legal changes will also help to level the playing field between Abu Dhabi and Dubai, where foreigners are already allowed to buy freehold real estate in investment zones. The changes were enacted after a government study to examine the needs of the property sector, including meetings with investors, developers and others, according to the Abu Dhabi Executive Council.
"It is actually phenomenal [news]. It's a game-changer. It will encourage corporates to come here and build their headquarters. The cascade from this should be phenomenal," Edward Carnegy, director, head of Abu Dhabi office at Savills Middle East, told The National at the time of the annoucement.
"You have to remember that Abu Dhabi's objective is to diversify its investments and stimulate its economy and this is a massive step in the right direction."