Al Jurf Gardens, Imkan For Sale
A unique seaside destination steeped into the history. Nestled between Abu Dhabi and Dubai, along the Sahel Al Emarat Coast, AlJurf adds a new layer of beauty to the existing landscape. Integrating itself within the natural environment, AlJurf is a masterpiece that preserves and enhances the existing environment, perpetuating a legacy, rather than changing it.
The Sahel Al Emarat aims to capture the imagination of the Emirates in the same way the prime coastal destinations across the globe do, such as Côte d'Azur, Cape Cod and the Hamptons. The UAE's own first Riviera provides the perfect inspiration, a timeless and universal appeal & charm that adds to the feeling of relaxed and comfortable environment.
Built in the footsteps of our ancestors' vision for the nation on the land being the heritage of H.H. Sheikh Zayed bin Sultan Al Nahyan, the father of the nation. AlJurf is seamlessly integrated with the natural environment, to protect the heritage and pave the way for Sahel Al Emarat.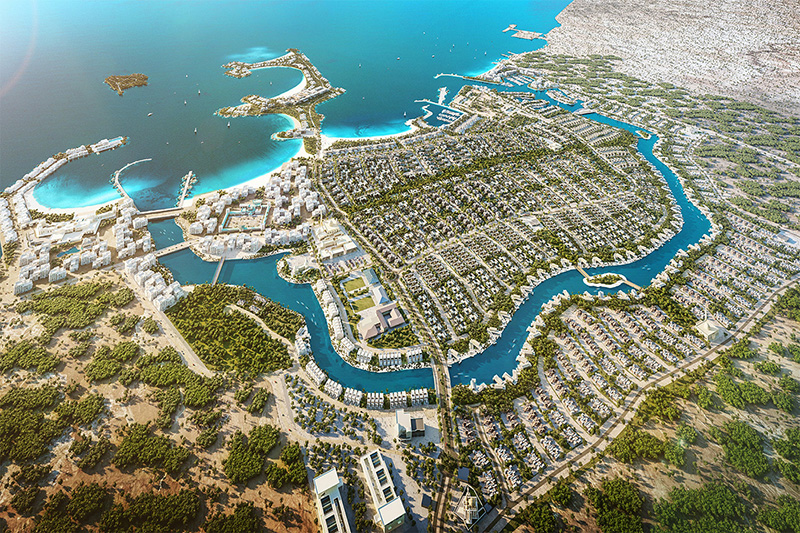 Nestled between Abu Dhabi and Dubai
The impeccable and untouched coastline in the Emirates—Sahel Al Emarat—strategically located between Abu Dhabi and Dubai, stretching across 1.6 km of sea front, 1.6 km of breakwater on the Arabian Gulf and spanning across 300 hectares, AlJurf is paving the way to become the new destination in the UAE, introducing a truly unique concept of community-living, that will forever change the future of Sahel Al Emarat.
AlJurf will comprise of three distinct districts, AlJurf Gardens, Jiwar Al Qasr and Marsa AlJurf, each with its own defining architectural characteristics and a range of amenities. The destination will feature a range of facilities including a world-renowned wellness clinic and retreat, unique residential communities and serviced residences, a marina and a town center encompassing a hotel and retail units. All these components will be carefully integrated within the natural landscape of AlJurf as to not disturb its harmonious beauty, but rather capitalize on it. Guests and residents will become the protectors of the ecosystem in the same way our ancestor were, while enjoying the simple luxury provided by this intricately weaved work of nature and design.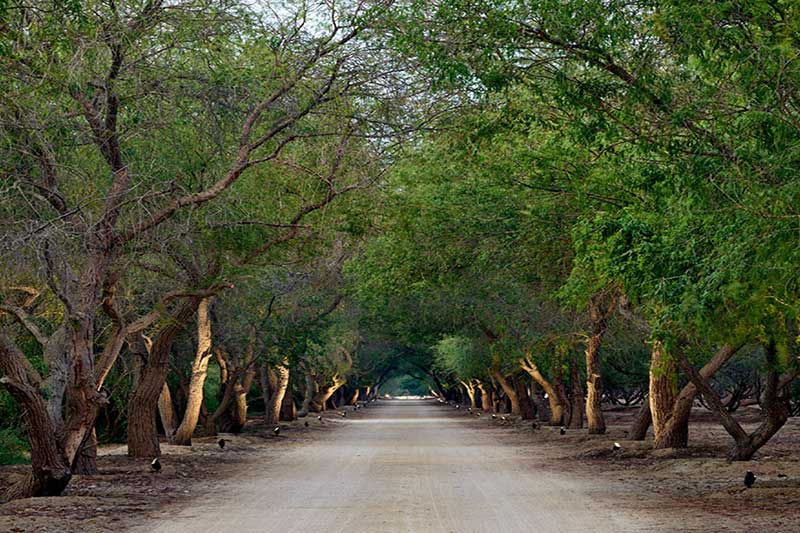 In the Shadow of the Future, We Create Tomorrow's Great Past
A short retreat from both Abu Dhabi and Dubai lies in the natural and breath-taking destination of AlJurf. Today, residents and visitors can truly feel our ancestors' presence on the land—as their legacy is weaved into every stone, tree and layer of the destination. Taking them on a spiritual journey of joy, freedom, rejuvenation and peace.
AlJurf is an inspiration to Sheikh Zayed's legacy, by following his dreams, embarking on the journey he started, and becoming the guardians of this soulful place he cherished.
At the heart of this great sanctuary, lies Qasr AlJurf, the former Royal Beach Palace of Sheikh Zayed. More than a cultural and heritage site, Qasr AlJurf stands for the strong Spirit of the Nation. Its essence comes from a deep understanding of the founding father's vision, character, and love of nature, creating a profound sense of pride, respect to the land, and all that it carries along.
Driven by a great vision and passion, our ancestors' had a dream and made it reality. Walk in their footsteps and go on a journey through history and into the great future of the UAE. Standing in its past glory, the Royal Beach Palace will offer visitors an authentic glimpse into the past.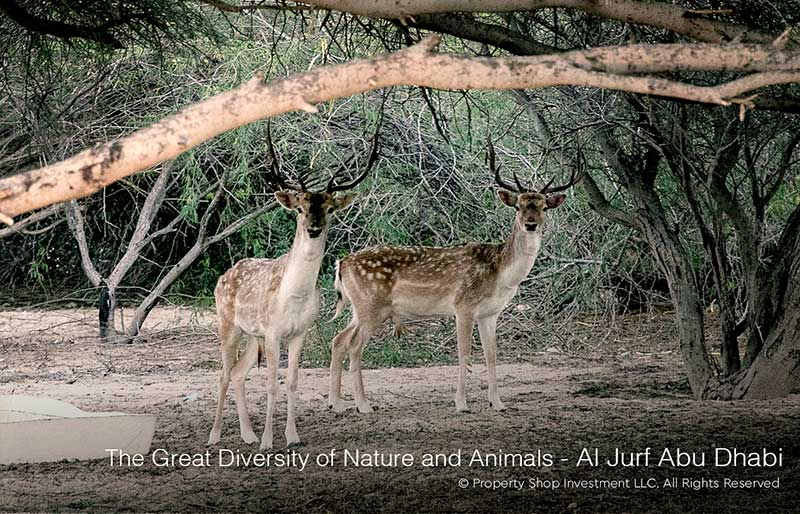 The starting point of preserving The Natural Habitat for centuries to come
The natural habitat of AlJurf is a hidden treasure that is only discovered if you venture into the heart of it. The natural environment that at first glance may not reveal the great diversity of nature and animals that come together in a soul-enriching environment. Ranging from agile birds, endangered turtles, and graceful gazelles to name a few, the harmony of coexistence in a balanced ecosystem is weaved into the natural environment of AlJurf.
Lush greenery and dense forests once covered the Arabian desert. With a vision to restore the Arabian desert to its past glory, our ancestors achieved what can only be described as an environmental miracle— transforming the desert into a green heaven by planting millions of trees to create lush forests. Wild and untamed, the raw nature of AlJurf is of truly unparalleled beauty. The focus of restoring the glory of the Arabian plant life, the natural habitat of AlJurf has not only been preserved, but nurtured and encouraged to further prosper.
The Arabian garden has been considered as paradise on earth since ancestral times. It takes inspiration from traditional and cultural heritage, reproducing a precious piece of nature in a smaller scale. The key elements of the garden composition are water, paved paths and flower beds used to recreate a very lush environment.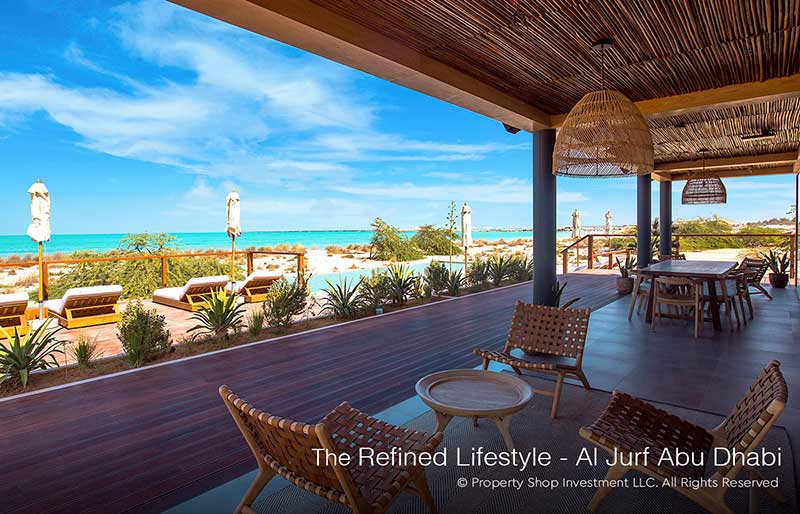 Let Your Lifestyle, Reflect your Heritage
Aiming to create a unique sense of community living, fostering the UAE Culture and Heritage, at Al Jurf you reconnect with the nature in a relaxed, comfortable environment with your family. A premium lifestyle that not anyone can afford, offering a wide range of residential amenities including a world-renowned wellness clinic and retreat, private beach, Yacht club, water activities, horse-riding, retail outlets and much more to explore.
The ideal setting to escape and engage with the nature offering a serene respite from city life. AlJurf is the place where family, friends and loved-ones congregate, teaching us to appreciate the time we share together. Reflecting the unique local heritage, AlJurf presents a natural and comfortable environment for Local families gathering all together, the children our greatest treasure and the eldest our wise guiders throughout the life.
Elevate your living with the nature and family at AlJurf featuring a range of facilities including a world-renowned wellness clinic and retreat, ideal for the eldest members of your family to be taken care of and yet enjoy the endless advantages of this unique concept of community living enhancing the lives of generations to come.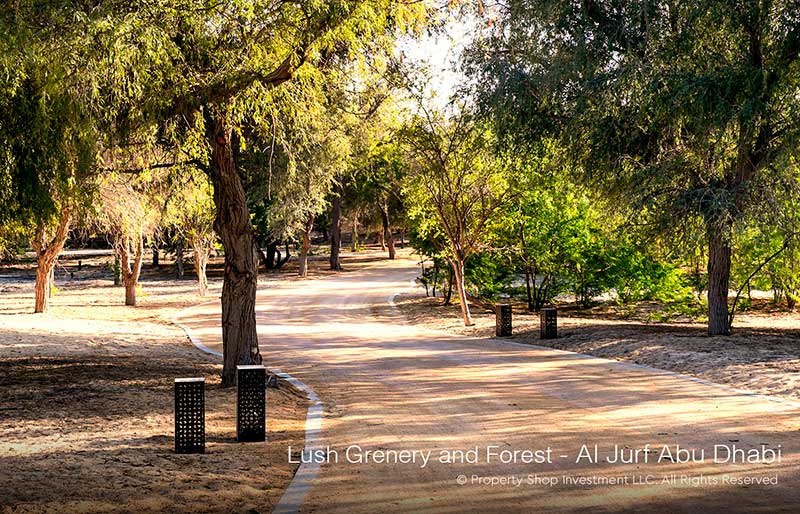 The multi-dimensional beauty of Al Jurf
AlJurf Gardens – A unique Living Sanctuary
Inspired by local culture, AlJurf Gardens tames the wilderness of its surroundings to introduce refined architecture patterns repeated in different scales to reflect nature's beauty across every typology of homes, gardens and courtyards. AlJurf Gardens features different villa types that each speak to those seeking tranquility, a sense of escape and a simple yet refined lifestyle, as well as the desire to reconnect with nature
The Glorious Ranches
AlJurf Gardens is where, decades ago, tens of thousands of trees were planted to create a green haven in the desert of Abu Dhabi. AlJurf Gardens is a natural masterpiece, an intricate tapestry of 500 landscaped plots designed to seamlessly integrate within the natural, raw beauty of AlJurf.
The Influence of Local Culture
Local sha'abi, wind towers and courtyards have inspired the homes at AlJurf. Mixing landscaped gardens that nurture the domestic habitat, allows us to elevate living with nature. The Royal Garden and Ghaf tree areas encompass forest typologies that are native to the land.
Private Entrance
Away from the bustling crowds, and quick paced city, with a private & gated entrance, lies AlJurf Gardens. Stepping through the gates, one walks into a place that allows one to live simpler, that allows them to experience an authentic time with family & friends, in a private and secure environment.
Private Beach
AlJurf Gardens boasts its own private beach, coastal shores stretching alongside the development's border, protecting its residents from the outside world.
Private Marina
Comfortably nestled on the shores of the beautiful coast of AlJurf and a short path through the trees and lush greenery, lies the private marina, accessible exclusively to the residents of AlJurf Gardens for an actively enriching lifestyle.
Community Centered
AlJurf Gardens has the community at its heart. It boasts a majlis, courtyard architecture, mosques and a community centre offering a welcoming setting to come together.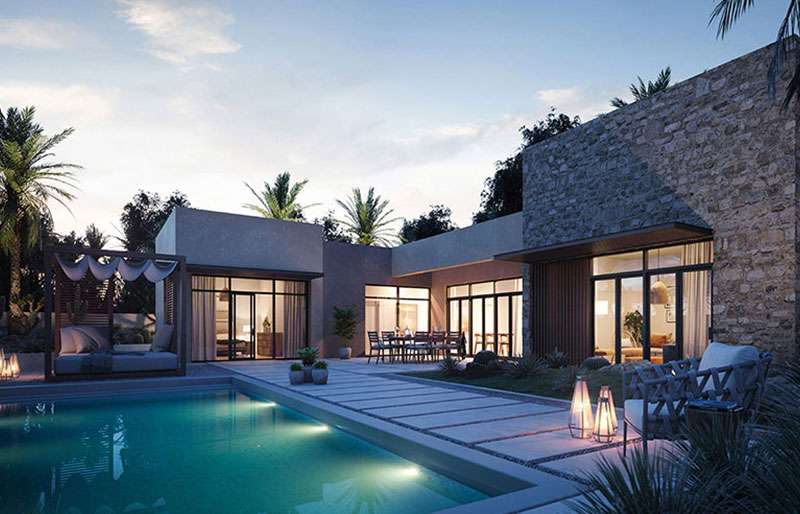 Discover The Influence of Local Culture, skillfully woven into each of the Villa Typologies
Al Jurf land area of Phase I is approximately 970,000 sqm comprising of 203 Villas and 90 Plots. The residents will be able to choose between 4 different styles of Villas – Budoor (2,3,4,5 & 7 bedroom), Ghusoon (3,4 & 5 bedroom), Joud (3,5, & 7 bedroom) and Rabia (7 bedroom) – based on their preferences. The 7 bedroom villas are within a walking distance from the beach. All inspired by a distinctive architectural designs reflecting an ideal blend between heritage and contemporary. The Villas will have a built-in kitchen and kitchen appliances in addition with built-in wardrobes.
Budoor Villas – A world of Breathtaking Contrast
The Budoor Villa design is inspired from the basic element of the Arabian desert tent that both creates shelter and provides shade. It is modular, open, and linear. Historically, as the tribe grew in numbers, the tents transformed into multiple tents with courtyards that provided privacy, light wells and breathable punctures. Inspired by local topography and landscape, the oasis naturally embraces shaded pools, golden sands and layers of vegetation not only providing a heavenly respite from the harsh heat, but an also irresistible fodder for desert exploration.
Ghusoon Villas – Naturally Inviting
There are two types of Ghusoon Villas— each in their own way creates a series of intimate spaces with views into private gardens. Step into a soul-soothing oasis where verdant trees adorn the surrounding space with their mysterious shady volumes, allowing light and serenity to brighten up every aspect of your life. Wake up to the sound of birds chirping, echoing in the vastness of the untouched surroundings inviting you to experience the best of nature and wildlife.
Joud Villas – A synesthetic Experience like no other
Taming the wild nature of AlJurf is the theme of the Joud Villas. The complexity of natural aspects like the wilderness of the plants, water features, textures, land levels, and natural light, all those vital wild aspects acquired more control and order. The Joud Villas build on the rich tradition of Arabic homes in the region.
Rabia Villas – Following into the Future
The Rabia Villa is a combination of old and new, rugged and refined. It is carefully designed to reflect and blend in the natural and raw beauty of its surrounding, with a modern twist— the base of the building in stone in contrast to the interior reflecting refined smooth elegance. The design carefully captures elements of the past and the future into two distinct layers. One resembles the roots, history and the heritage at a ground level enclosure which seamlessly integrates with the natural environment to create a playful platform acting as a continuation of the masterplan tapestry. The other layer is looking to the future by seeking the vision and the view openly and transparently to connect with the sea ahead and the horizon beyond.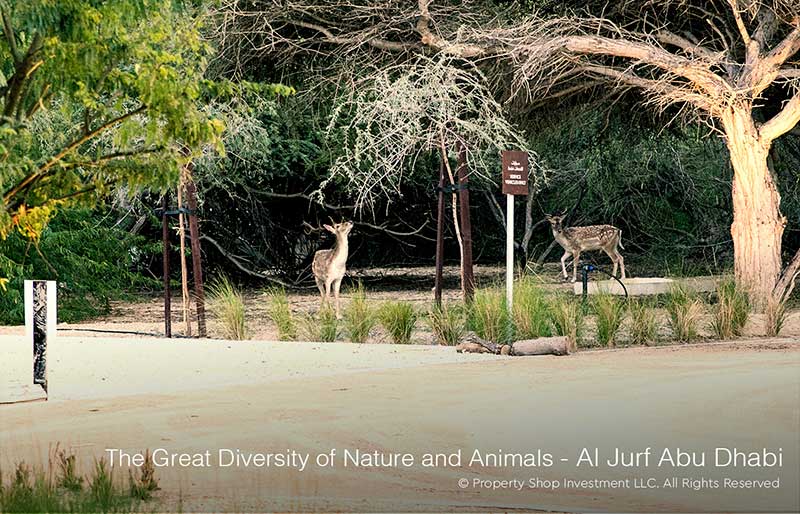 Uniquely Designed Land Plots
At Aljurf you become a part of heritage having the opportunity to own a land and build a Villa of your dreams, by choosing among 5 different types of land out of 90 plots within Aljurf Phase One. The Lands are covered with the variety of harvesting trees that are part of the heritage of Sheikh Zayed, as he was passionate about agriculture.
The Land Plot range is divided into 5 different types comprising of:
Boutique 756 sqm
Lifestyle 1,237 sqm
Premium 1,620 sqm
Superior 2,025 sqm
Signature 5,500 sqm
II. Jiwar Al Qasr
The essence of Jiwar Alqasr, being vibrant, energetic, and colorful—reflects the cosmopolitan nature of the UAE, while maintaining strong ties to its culture. The site is built around the Royal Beach Palace. Jiwar Al Qasr protects the heritage of the Palace, which will become a focal point proudly celebrating contemporary Arabian culture. The rich Arabian culture is valued over the years for its depth and complexity. Inspiring the works of great poets and artists, as well as playing muse to some of the greatest literary masterpieces, this culture is one worth celebrating. Understanding the depth of the culture, and the wealth of its traditions, Jiwar Alqasr celebrates the contemporary Arabian lifestyle while protecting the heritage of the Palace.
III. Marsaljurf – The most Privileged Marina in the Emirates
Aljurf is home to a natural beach and crystal – clear sea. With a Marina district, yacht club, retail district, apartments and water activities added it aims to become a stunning Riviera full of life. Residences on the sea, along the pier, and in the marina, offer a unique, marine-based living experience. A getaway for those seeking differentiation within the UAE with unparalleled views. Dock your yacht in the marina, and take a leisurely stroll along the strip. All year long there are activities for the entire family, just stroll the vibrant village sidewalks, and walk to nearby beaches, restaurants and town. On the bustling marina you'll find lively nightlife, specialty shops, fun attractions and much more.
Why AlJurf?
Strategically located between Abu Dhabi and Dubai, at the pristine coastline of Sahl Al Emarat
The UAE's very own Riviera with natural beach, crystal clear sea and unparalleled views
Glorious ranches, Private entrance, Private Beach & Private Marina accessible exclusively to the residents of AlJurf
Unique concept of community-living for UAE Nationals, fostering preservation and respect towards UAE Culture & Heritage
Distinctive architectural designs reflecting an ideal blend between heritage and contemporary
The stunning lush of nature, greenery and wide diversity of harvesting trees and animals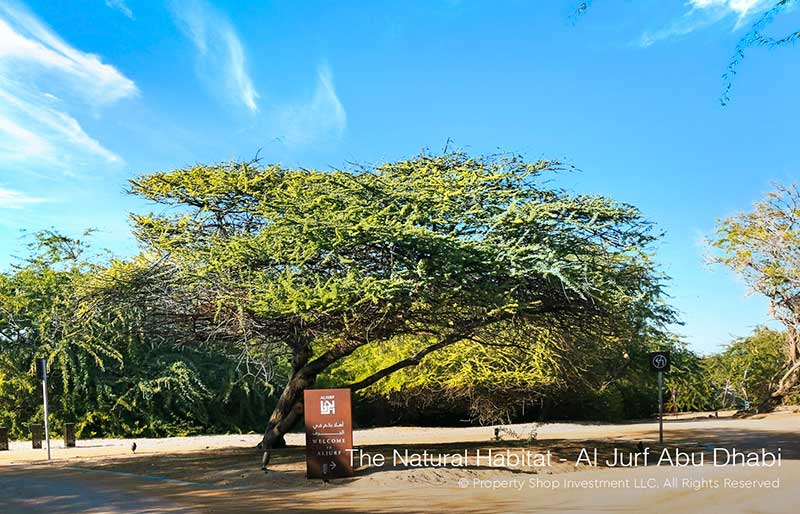 Al Jurf Amenities
World-renowned wellness clinic and retreat
Unique residential communities and serviced residences
Marina district, yacht club and water activities
Hotel in the town Centre
Retail outlets
Natural 3.4 km of beachfront
700 m long private beach (phase 1)
Parks and playgrounds with running trails
Community centre & medical clinic
Gated community
Public beach access
Nature reserve
Nursery
K-12 school
Mosques
Private marina with up 120 berths
Public marina with up to 150 berths
Watersports centre and beach club
About the Developer – IMKAN
IMKAN is an Abu Dhabi-based high end real estate developer with a human-centric approach to property development. The Placemakers of whole communities, providing higher returns and aiming to create soulful places that enrich people's lives. IMKAN is wholly owned subsidiary of Abu Dhabi Capital Group (ADCG).
Their key projects include two developments in Makers District; The—Artery, a multi-use building that integrates a makers' space with a parking garage, and Pixel, their first mixed-use destination. In addition, IMKAN portfolio includes Nudra, a luxury beach-side villa community, and Sheikha Fatima Park, an open-air project that seeks to enhance community interaction.
Adding the extra value
The Placemakers add a new dimension to cities, giving them the potential to become places that offer their residents a sense of belonging. A space becomes a warmer place when people relate to it differently from others. They have emotions about it and feel a sense of belonging towards it.
It's All about People
The Creative placemaking provides bottom line benefits – social, environmental, and financial – for all stakeholders. It has been seen that communities enjoy enhanced health, wellbeing, and economic outcomes, as well as employment growth and improved public safety when placemaking is taken into account.
PSI – A Home you Deserve. People you Trust.
Property Shop Investment is the largest private effective real estate company in Abu Dhabi and has successfully achieved prominent brand recognition through the past decade of our outstanding and sustainable long-term performance. As a recognized and awarded full-service brokerage firm, PSI is known not only for achieving targets, but also for exceeding expectations.
Aiming for the highest performance in our industry, PSI has been pleased to receive numerous awards such as Annual Broker Awards 2018 by Emaar, Top Performer by Aldar 2017, Number One Real Estate Broker every year since 2011 in Abu Dhabi and many more.
Property Shop Investment is the preferred agent for mega developers like
Emaar Properties, Aldar, Meraas, IMKAN, Mesab, Bloom Properties, Dubai Properties, Hydra Properties, AZIZI Developments, Ellington, Manazel, Burooj, Green Emirates, Profile Group, Real Estate Bank, Damac Properties as well as major finance providers in the UAE such as ADIB, Dubai Islamic Bank, Abu Dhabi Finance, Mashreq Bank, NBAD, ADCB, Al Hilal Bank and more.
We at Property Shop Investment have gone the extra mile to satisfy our clients by providing additional services and privileges from our valuable partners and we ensure that developers will contemplate them as priority.
We compile your real estate experience and save your time and money by providing professional advisory from our highly experienced team that will guide you to select the best solutions and assist you to fully understand the project details which shall lead to ultimately achieving your goals as an investor or end-user.
• PSI's solid reputation in the market is based on our continuous pursue of quality and superiority in all our services
• Tailor – made services to suit all demand and meet client expectations
• High Online Exposure with over 50+ specialized websites owned by PSI covering all projects and areas and securing good units
• Professional and highly experienced advisory team
• Strong target-oriented in house Sales/Leasing team
• In house Professional Marketing Team specialized in Real Estate
• Budget Efficiency for Client/Project – All services are done in-house
• Growing every year in terms of inventory, employees & awards.