Discover the Most Pet-Friendly Areas in Dubai for You and Your Furry Friend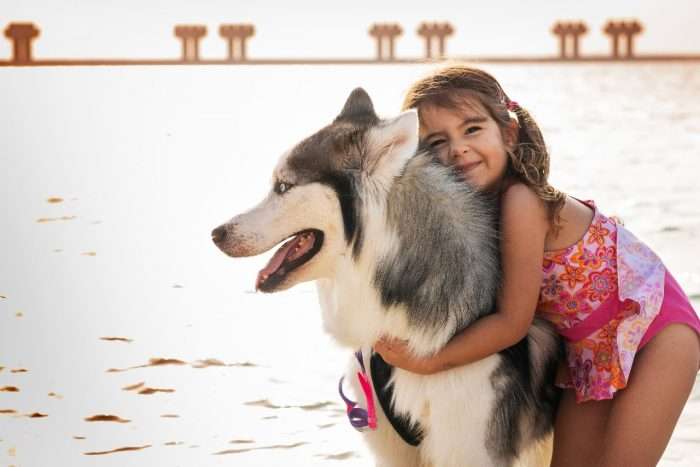 Are you considering a move to Dubai with your beloved pet?
Whether you're a dedicated dog owner or share your home with a feline friend, finding the right residential area in Dubai that suits both you and your furry companion is of paramount importance.
We understand the unique needs of pet owners, and to assist you in your quest for the perfect home, we've compiled a list of the most popular pet-friendly areas in Dubai.
Pet-Friendly Apartments in Dubai
While Dubai boasts numerous apartment choices, not all of them are pet-friendly. When searching for a pet-friendly apartment, it's crucial to consider open spaces and proximity to pet-friendly parks.
Jumeirah Village Circle (JVC) tops the list as one of the most popular pet-friendly areas in Dubai. What sets JVC apart are its countless green spaces and parks scattered throughout the community, making it an ideal choice for dog owners. Pet grooming services, veterinary clinics, and pet supply stores are readily available in this neighborhood.
Studio apartments for rent in JVC have an average annual cost of AED 45,000.
Larger 1-bedroom and 2-bedroom apartments in JVC are available for average annual rents of AED 67,000 and AED 95,000, respectively.
The average rent for larger 3-bedroom units in JVC is AED 142,000 per annum.
Downtown Dubai is another pet-friendly community worth considering. This area is ideal for small dogs and indoor cats and is home to Burj Park, one of the pet-friendly parks in Dubai.
Studio apartments in Downtown Dubai have an average annual rent of AED 81,000.
The average annual rent for 1-bedroom apartments in Downtown Dubai is AED 134,000.
Larger 2-bedroom rental flats are available for AED 245,000.
You can find 3-bedroom apartments for rent at an average cost of AED 410,000 per annum.
The Jumeirah Lake Towers community is another pet-friendly neighborhood that offers wide, beautiful pathways around the lake, ideal for walking your pets. The community is known for its welcoming attitude towards dogs, and there's even a dedicated dog park – JLT Dog Park – for your furry friends to play and exercise.
Studio apartments in JLT have an average annual rent of AED 57,000.
The average annual rent for 1-bedroom apartments in JLT is AED 82,000.
Those interested in larger units can expect to pay an average of AED 120,000 for 2-bedroom apartments.
You can rent 3-bedroom apartments for AED 163,000.
Check For More of Dubai Pet-Friendly Communities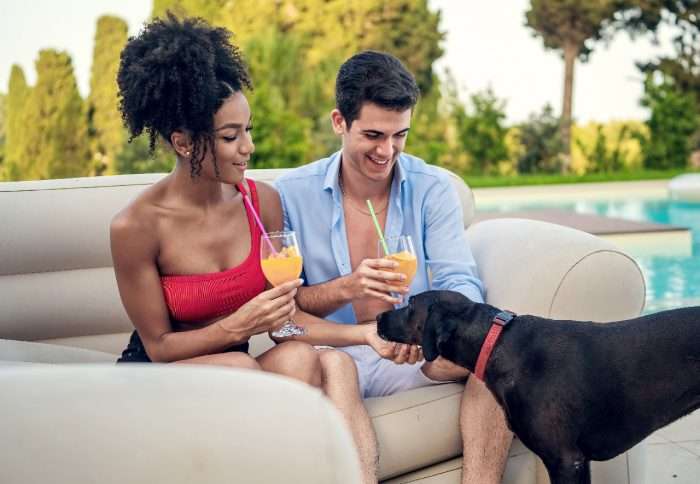 Pet-Friendly Areas in Dubai with Villas
Arabian Ranches is a pet-friendly community with large open spaces, spacious homes with gardens, and walking paths. It's an ideal choice for those with pets, as you'll find villas for rent with private gardens, making them suitable for pets of all sizes.
On average, you can rent a 3-bedroom home in Arabian Ranches for AED 247,000 annually.
A large and stylish 4-bedroom villa would cost around AED 331,000 per year.
Rent a 5-bedroom house in Arabian Ranches for an average price of AED 433,000.
The 6-bedroom unit has an average rent of AED 689,000 per annum.
The Springs
The Springs is another centrally-located pet-friendly community in Dubai. There are pet stores in the neighborhood, and you'll even find a fenced dog park behind Springs 8, perfect for giving your dog some leash-free time.
Tenants can get 3-bedroom villas for rent in The Springs for an average price of AED 243,000.
The 4-bedroom rental homes in the area average at AED 281,000.
For those interested in purchasing villas, The Springs offers an ROI of an impressive 5.90%. Here are the average prices for villas:
 The 3-bedroom villas for sale in The Springs are available for an average of AED 3.91 million.
For the 4-bedroom variety, buyers can expect to pay around AED 4.62 million on average.
DAMAC Hills 2
DAMAC Hills 2 offers lush green spaces and parks, making it perfect for keeping a dog or cat. The stunning villas in the community are eco-friendly and equipped with modern amenities.
The 3-bedroom villas for rent in DAMAC Hills 2 cost AED 86,000 per year.
The average cost to rent 4-bedroom villas in DAMAC Hills 2 is AED 104,000 per annum.
 5-bedroom villas for rent cost AED 138,000 per annum.
 You can rent a 6-bed villa for AED 207,000 annually.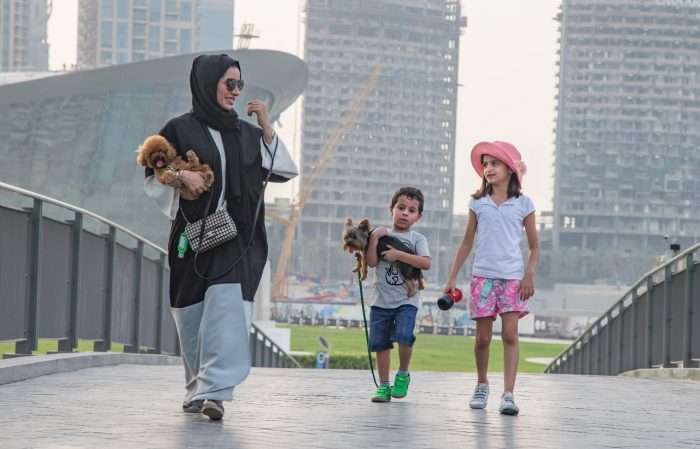 Dubai has transformed over the years to become more pet-friendly, offering parks, restaurants, cafes, and various venues where you can enjoy quality time with your four-legged friends.
Among the dog parks in Dubai, BarkPark stands out as one of the most popular places for dogs to run and play.
Whether you're a long-time pet owner or considering bringing a new furry friend into your life, Dubai's pet-friendly communities have something to offer everyone.
Enjoy your time in this beautiful city with your beloved pets by your side.
Explore More of UAE Pet-Friendly Properties